I had been to PyeongChang once before, in September 2010, as well as Gangneung (April 2013). Both of these cities in Gangwon Province hosted events as part of the recently concluded 2018 Winter Olympics. Most prominent, of course, was PyeongChang. Prior to the Games, I went there with Audrey just to look around and was back with my friend Yong Yoon once they had begun. Audrey and I took the KTX to Gangneung, on the east coast, a week later for a women's hockey game, and I made a final trip alone to PyeongChang on the penultimate day.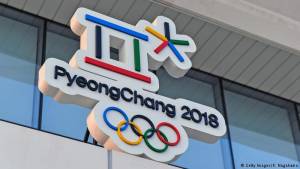 I will start by saying I have mixed feelings about this big sports extravaganza. In some ways, I was proud and amazed to see it come off with so few problems. But why should I be surprised? This country stepped out on the international stage 30 years ago with the Seoul Summer Olympics and has hosted countless gatherings of athletes, politicians, financiers, high-tech moguls and scholars since then. We have abundant experience, and IOC President Thomas Bach was quite right in saying the usual flattering words about the host city during the closing ceremony at Olympic Stadium. The Koreans, of whom I consider myself one, did well.
White elephants
At $13 billion, success did not come cheap. But consider its predecessor. The 2014 Sochi Winter Games are estimated to have cost a staggering $51 billion. Russia, an autocratic state, was determined to dazzle the world no matter what. (It also engaged in a massive and blatant doping scheme that led the IOC to "ban" the country from participating in PyeongChang. Nonetheless, 165 demonstrably clean men and women were allowed to perform under the banner of Olympic Athletes from Russia, or OAR.) The Hyundai Research Institute predicted $40 billion in economic activity from the Games, but that seems much too rosy. And we can hardly close our eyes to the depressing tendency in which Olympic venues—both Summer and Winter—soon turn into white elephants. The world-class athletes have now gone home, so what will we do with that big ski jump, the alpine ski slopes, the hockey rink, the luge track, the bobsleigh track and more? Such facilities are expensive to maintain. It seems scandalously wasteful that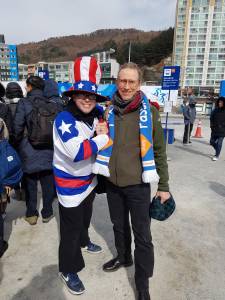 demolition of the $120 million Olympic Stadium will begin within a few weeks. PyeongChang is not likely to become a major tourist draw in the coming years because it is so remote, and Korea does not have much of a winter sports tradition.
I merely attended that one hockey game but spent a lot of hours watching on television. It was shamelessly biased in favor of Korean athletes. Sometimes, I kid you not, valuable minutes were devoted to them practicing their sports or pedaling on stationary bikes while actual competition was going on elsewhere. I was struck by how young the athletes looked, although a few were in their 30s and 40s. Female cross-country skier Marit Bjoergen of Norway ascended the podium five times. Czech skier and snowboarder Ester Ledecka, OAR's 15-year-old figure skater Alina Zagitova, Chinese short-track speed skater Wu Dajing and American snowboarder Shawn White also won gold in impressive fashion. Korea's "Garlic Girls," led by skip Kim Eun-Jung, made a glorious run to silver in women's curling.
Winners, losers
While ranking countries by medals won is a crude metric, here are the top ten (keeping in mind that a gold is worth more than a silver, which is worth more than a bronze): Norway (39), Germany (31), Canada (29), USA (23), Netherlands (20), Korea (17), Switzerland and France (15 each), and Sweden and Austria (14 each). Not included is OAR (17) since its participation in the Games was dubious to say the least. The home team, Korea, had sought 20 medals. To facilitate that possibility, a lot of ringers were brought in. No fewer than 17 foreigners were, shall we say, honorary Koreans. Eligibility rules for both Summer and Winter Olympics have grown lax recently, and 6% of the athletes at PyeongChang had only the slightest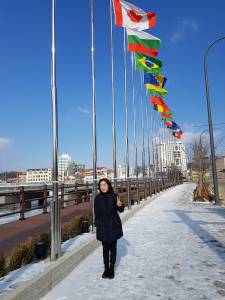 connection to the countries they represented. I do not like this. On the positive side, I commend Lebanon, Bolivia, San Marino, Ecuador, the Philippines, East Timor, Togo, Kosovo, Cyprus, Puerto Rico and Albania. They are among the numerous countries that sent tiny teams with virtually no chance to medal. Their participation was welcome. They competed, and I am proud of them for having done so.
Now, about North Korea. For the past 12 months, Kim Jong-Un's generals and scientists had been conducting nuclear tests and shooting missiles, enervating all of Asia if not the world. The chance that they would in some way hamper the PyeongChang Games seemed quite real. Let us remember what the DPRK did not long before Seoul's Summer Olympics in 1988—planting a bomb in a South Korean airliner and killing all 115 people on board. Nothing so dastardly happened this time. In fact, Kim did an about-face. After weeks of negotiations with South Korea and the IOC, he agreed to send 22 athletes (only two of whom, the ice-skating pair of Ryom Tae-Ok and Kim Ju-Sik, actually qualified), entertainers, musicians, cheerleaders, journalists and government officials. A total of 500 people crossed the DMZ at Paju, flew into Seoul or arrived by boat at Donghae, technically violating United Nations sanctions. Certainly not all South Koreans were pleased about this. There were angry protests, but the geopolitical urgency was so strong that it had to proceed. A hotline between Seoul and Pyongyang—dormant the past two years—was reestablished and documents exchanged by fax. Agreement was reached whereby the two Koreas would march in the opening ceremony together, wearing the same uniforms and waving the blue-on-white unification flag. In a top-down maneuver Kim Il-Sung would have loved, 12 North Koreans were added to the women's hockey team and Coach Sarah Murray (an import from Canada) was told to put at least three North Korean girls into every game. The fact that some better qualified South Korean girls were effectively kicked off the team got little press. Badly overmatched, they lost all five games by a combined score of 28-2. Has such a woeful hockey team ever gotten so much attention? Not to my knowledge. The Korean media talked up plans for a movie about them and even, believe it or not, suggested that they be nominated for the Nobel Peace Prize.
The delegation that came south included Kim Yong-Nam (nominally the DPRK's head of state although he wields no actual power), Kim's sister, Kim Yo-Jong, and Kim Yong-Chol. The latter is suspected of having masterminded the 2010 sinking of the South Korean Navy ship Cheonan. Forty-six seamen went to a watery grave due to him. This, of course, infuriated conservatives in the South.
Moon rolls the dice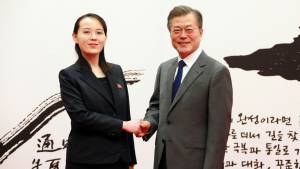 President Moon Jae-In, elected in May 2017 partially on a platform of improving relations with the North, was all-in. He was determined to have at least a temporary détente, but he surely knew it was a dangerous gamble. Moon optimistically, or naively, called these the "Peace Games." The visuals, it cannot be denied, were good. The opening and closing ceremonies, with the combined teams together, were enough to cause even the most cynical—and I'm pretty cynical about North Korea—to have a measure of hope. Might things work out? Could it possibly be the start of a thaw between the two countries, leading some day to full reconciliation? That remains to be seen. Before the Olympic flame was extinguished and they had all left, Kim's sister handed Moon a letter inviting him to Pyongyang.
Mention must be made about the 200 or so female cheerleaders, a key part of North Korea's "charm offensive." Like most hetero guys, I am a fool for a pretty face. These young women, chosen on the bases of beauty, height (at least 5′ 6″) and loyalty to the regime, were quite well-choreographed. They sang,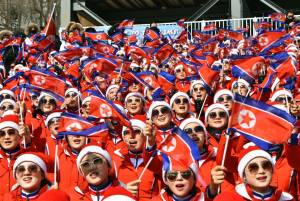 danced and beamed for the cameras. I watched their synchronized chants and found them completely alluring. They managed to avoid lapsing into propaganda about the Kim regime—part of the agreement worked out before the Games. The cheerleaders, and all the North Korean athletes, had minders the whole time they were here. Even a visit to the comfort room could not be done alone. A single defection in such a high-profile setting would have meant an unbearable loss of face. In truth, the South Korean side also had no desire for that to happen.
Olympics? What Olympics?
Given that life in North Korea resembles a house of mirrors, it should come as no surprise that KCTV, the only source of television news up there, made no reference to the Winter Olympics. The state-run news agency, KCNA, ignored it too, but found reason to inform people that the anniversary of Kim Jong-Il's birthday had been observed recently in Russia, Mongolia and Guinea. (Exceptions were made, of course, for the Kim family and top governmental and military officials.) This was a chance for North Korea to briefly escape its isolation and be out among the nations of the world, conferring a degree of legitimacy. But to put it in newspapers and on TV would have given the people a glimpse of life south of the border. Furthermore, the abysmal performance of their athletes would have done little for North Korean self-esteem.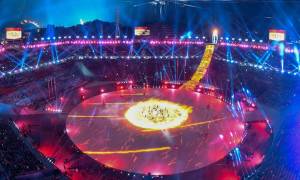 The curtain has fallen, and the 2018 Winter Olympics, many years in the making, are over. The athletes, Kim's sister, the big-shot North Korean officials and the cheer girls have departed. They had not been allowed to see much, and their true feelings about it are subjects for conjecture. All of the 2,922 athletes had stayed in the Olympic Villages of PyeongChang and Gangneung, and received the newest Samsung smart phones as a gift—except for those representing the DPRK. They were kept apart, and no thanks on the phones. Some South Koreans feel that Moon and the government have been duped by Kim and that nothing has changed or will change as far as its nuclear program or human rights abuses. They contend that Kim has succeeded in driving a wedge between the ROK and its long-time ally, the United States. Others will insist that some communication is better than none, that a little warmth is better than ice cold.
On February 25, about 35,000 people watched a rather stilted ceremony as the five-ringed Olympic flag was passed from PyeongChang Mayor Sim Jae-Guk to Bach, and from him over to Chen Jining, mayor of Beijing. The next Winter Olympics will be held there from February 4 to 20, 2022. The Chinese, of course, are North Korea's main benefactor. Without a steady supply of food and fuel from them, the Kim regime would collapse in six months—nine, max.