It was 9 p.m., four years ago today. Four hundred and seventy-six people—33 crew members and 443 passengers, most of them 11th grade students at Danwon High School in Ansan—boarded a cruise ship named Sewol at Incheon. They headed south, bound for Jeju Island. This popular maritime excursion usually takes 13 ½ hours, so they were due to arrive at 10:30 a.m. on April 16.
As the world knows, they never got to Jeju. A tragedy occurred off the southwest coast when the 6,825-ton ship capsized and sank. Korea was convulsed with sorrow, anger and political recriminations. There were 304 victims, a few heroes and villains galore. Let us remember the Sewol.
Yoo Byeong-Eun
Some background might be helpful. This ferry was built in 1994 in Japan and called Naminoue, operating in Japanese waters without incident for 18 years before being purchased by Cheonghaejin Marine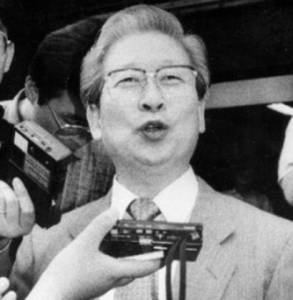 Company (CMC). To say that its president, 73-year-old Yoo Byeong-Eun, had a murky past is to engage in massive understatement. Yoo, who went by the pseudonym "Ahae," had a tangled web of affiliates and subsidiaries, many of them bogus. He was the co-founder of a Christian cult called Salvation Sect; one of its splinter groups was headed by a woman named Park Soon-Ja. More than 30 people died in a 1987 murder-suicide, including Park and her three children. This was known in Korea as the Odaeyang incident. She was suspected of having embezzled almost $9 million. Yoo allegedly embezzled even more and was compelled to serve a four-year (1991-1995) prison term.
Soon after CMC bought the Sewol, it was illegally modified by the addition of passenger cabins on the third, fourth and fifth decks. The result was that it became top-heavy. Nevertheless, it passed inspection by the Korean Register of Shipping and the ROK Coast Guard. These safety checks were cursory at best. The Sewol was supposed to carry no more than 987 tons, but when it left Incheon on April 15 that number was more than doubled to 2,215 tons. There were 180 vehicles along with cargo such as marble and steel. Instead of 2,030 tons of ballast, the ship had 580 tons. To compound these rather alarming matters, the crew consisted mostly of members of Yoo's church. Their training was minimal. The captain, Lee Joon-Seok, had many years of experience at sea and yet his pay was a scanty 2.7 million won per month. On recent trips to and from Jeju, the vessel had been unstable and passengers complained.
Into the Maenggol Channel
The Sewol's final journey was uneventful until it entered what may have been its most perilous passage—the Maenggol Channel; accidents were known to happen there due to strong tidal effects and other oceanic conditions. With Lee resting in his cabin, helmsman Cho Joon-Ki and the first mate, 26-year-old Park Han-Kyul, were at the bridge. They had the ship traveling at 18 knots, and visibility was good. But a miscommunication between Cho and Park caused the Sewol to take a sharp right turn at 8:48 a.m. That might not have been a problem if the cargo had been firmly secured, but it was not. It shifted to the left—survivors, many of them then eating breakfast in the cafeteria, recall hearing a loud bang—and the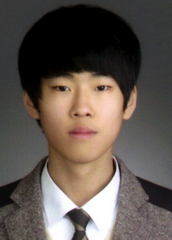 overloaded ship began to list. Cho and Park tried to implement countermeasures, to no avail. Within two minutes, water was pouring into the cargo loading bay.
One calamitous event happened after another. No call for rescue was given until 8:52 a.m., and it came from a student! Choi Deok-Ha took it upon himself to dial 119 (to the Jeollanam Province fire department) on his smart phone and report that the Sewol was capsizing. The engines were cut off, and the lights went out. A communication officer got on the intercom and absurdly, foolishly instructed passengers to stay put. These, of course, were the crucial minutes when they should have all put on life jackets and moved in an orderly fashion to the decks. Lifeboats or rafts should have been dropped into the water. The Mokpo Coast Guard and the ROK Navy sent rescue vessels, but they would not arrive until 9:30 a.m.
An underwater tomb
Most of the students and other passengers did as they were told, remaining below decks. In doing so, they doomed themselves. We later saw excruciating videos they had sent to friends and family members in which they made jokes and talked about posting their experience on Facebook. Soon, however, the mood turned to terror as they realized the horrible reality they faced. As precious time passed, the ship tilted further to the left, water rushed in, and they begged for help, prayed and said teary goodbyes.
The order to abandon ship was finally given. About 100 people jumped into the chilly waters of the Yellow Sea, and others were saved by the Coast Guard, naval and fishing vessels that had come to help. In the frantic and chaotic rescue, Lee was among the first to leave—in his underwear, for some strange reason. Crew members Park Ji-Young, Jeong Hyun-Seon and Kim Ki-Woong stayed aboard, helping passengers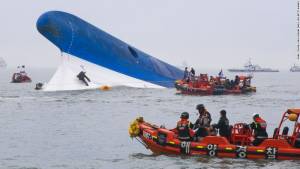 escape; Park, Jeong and Kim were among the victims that awful morning. The last message went out at 10:17 a.m., and although desperate and in some cases valiant rescue efforts went on for the next several days, it does seem that all had perished. By 1:03 p.m., the Sewol had completely submerged.
As soon as dawn broke on the 17th, the disaster scene was quite crowded. More than 170 ships, 29 aircraft and 500 divers worked feverishly in difficult conditions; two men died in the process. This, as noted above, was futile since the last survivor had already been evacuated. The Korean government took numerous wrong steps, and the media was no better. Early on, the Munhwa Broadcasting Corporation announced that all of the students—the focus was and remains on the students, to the exclusion of teachers, other passengers and crew members—had been rescued. The rejoicing, of course, did not last long. As Lee, Cho and Park underwent thorough interrogation, grieving and furious parents gathered at Jin Island. They wanted answers and action immediately, refusing to believe that many of their teenage daughters and sons had in fact drowned.
(Survivors have had to deal with all sorts of anxiety, guilt among them. Danwon High School vice principal Kang Min-Gyu could not bear it and hanged himself a few days later.)
President Park otherwise occupied
Where, they wanted to know, was President Park Geun-Hye? Her behavior on April 16, 2014 remains a matter of intense debate. Since she made no public comment until 5:15 p.m., her critics call this "the missing seven hours." Some say she was sleeping, or having her hair done, or getting a plastic surgery treatment or even trysting with an unidentified paramour. Park's disengagement at such a time enraged the parents, who showered her with hostile questions and insults when she flew down to Jin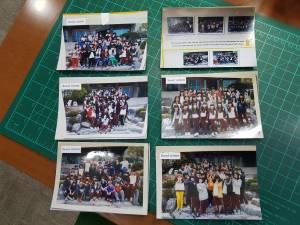 Island. In fact, this was the beginning of the end for the Park presidency. Due to a corruption scandal, she was impeached by the National Assembly in December 2016. By a unanimous vote, the Constitutional Court upheld the lawmakers' decision in March 2017, and she was sentenced to 24 years in prison earlier this month. Her abysmal handling of the Sewol matter and the scandal that brought her down would seem to be separate matters, and yet they were connected. Whether it was due to Park's left-wing enemies intent on seizing advantage or reasons more valid, I do not feel qualified to say.
I will, however, point out that this tragedy was not entirely unique. On January 5, 1953, while the Korean War was still going on, the ferry Changgyeong sank while navigating its way from Yeosu to Busan; 229 people died. On December 15, 1970, the ferry Namyoung left Jeju Island for Busan. It was overloaded and sank off the waters of Yeosu, killing 326 people. And on October 10, 1993, the ferry Seohae (also overloaded) went down near Wi Island, claiming 292 lives.
Lee, the Sewol's captain, was convicted of negligent homicide and abandoning the ship with passengers still on board. He was given a life sentence. Fourteen other crew members got two to 12 years on lesser charges. Yoo, owner of CMC, was the most wanted man in Korea. He went on the run and died under mysterious circumstances near Suncheon a couple of months later. Whether Yoo was a murderee or suicidee, we do not know or have not been told.
Raising the Sewol
There has been some measure of healing. In March 2017, a Chinese consortium agreed to do a $73 million salvage project, hauling the muddy and corroded Sewol up from the bottom of the ocean and bringing it to Mokpo for cleaning and examination. The final toll was 299 confirmed dead and five missing. Park's successor in the Blue House, Moon Jae-In, hosted the victims' families in August 2017. Apologies were made and hugs given. Moon, for what it's worth, had engaged in a 10-day fast on Gwanghwamun Plaza after the sinking of the Sewol.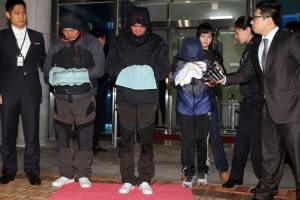 Yellow ribbons quickly became the visual symbol of the Sewol tragedy. But not all was positive, as the ribbons divided Koreans as much as they united them. Right-wingers did not and still do not like seeing them. One is pinned to the lapel of the gray suit I sometimes wear to the office. Thrice people have suggested I remove it, and I have politely declined to do so. Some conservatives, upset with Park being ousted and sent to prison, have turned against the victims' advocates. They say, in effect, it's time to move on. They also contend that the victims' families (and Danwon High School survivors) have been greedy in demanding compensation, special privileges and so forth. A carefully preserved classroom at the school is something of a shrine.
Books have been written about this wholly avoidable catastrophe, documentary films made and investigations conducted. But here we are, four years later, still struggling to come to terms with it.